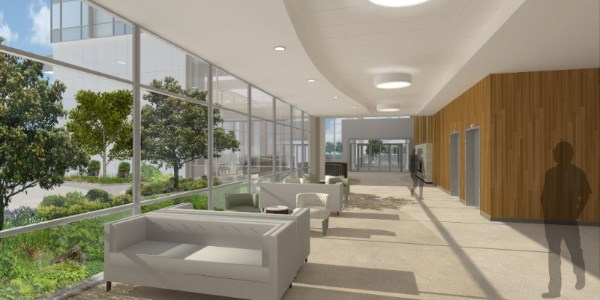 PKA designs an expansion to Legacy's Meridian Park campus that will provide larger patient rooms, incorporate new technology, and allow space for future expansion. (Tualatin, OR)
In April 2015, Legacy Meridian Park Medical Center hired PKA Architects to design a new facility that will consist of two medical-surgical floors of 48 beds each and a main level with shelled MOB space, along with reception and admission areas. PKA conducted a Discovery Phase, which engaged a wide range of staff, administrators, facilities, and providers who increased value and knowledge in the design process.
In August of 2015, the design team of the Legacy Meridian Park Patient Care Expansion Project reviewed several designs for the overall building layout and evaluated them with the Project Steering Committee to find the best balance of patient care, staff experience, budget, wayfinding, and constructability issues. The team selected an overall building configuration in late September 2015.
The proposed building will create a new entrance into the Legacy Health Meridian Park campus and will provide larger patient rooms, new technology, room for future expansion, and a fresh, modern appeal to the already outstanding level of care being provided at Meridian Park Medical Center.
As of this writing, the configuration of building envelope has been designed, the layout and schematic design of the building interior are complete, budget and parking analyses have been conducted, and the team is on track to discuss the project and submit it to the City of Tualatin.
For more information, please contact Jim Knees.