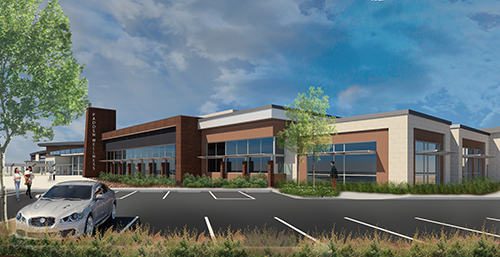 PKA focuses on improving the patient experience and supporting the holistic approach to medicine when designing the Padden Wellness Center for PeaceHealth and Providence Health & Services. (Vancouver, WA)
PKA Architects was hired for a joint venture project between PeaceHealth and Providence Health & Services in January of 2016. This joint venture project is Padden Wellness Center, a new type of facility for both health systems. The Padden Wellness Center is the fusion between a medical clinic and a fitness center. This integration fosters a holistic approach for patient care and requires cutting-edge innovation in the design process.
An emphasis on "Human Experience" is a strong driving force behind the design for this project. The Human Experience begins when the patient arrives on-site and continues throughout their entire visit to Padden Wellness Center. The qualities of the outside are brought through to the interior of the building. This creates transitions and seams aimed at inspiring care givers and patients toward the goal of whole-person care. Through the adept use of spatial design, natural light/materials, and personal interactions, patients feel treated as individuals and welcomed at the Center. Connecting to nature can take one away from the feel of the daily grind and provide calm and positive energies.
The Padden Wellness Center consists of multiple outpatient medical clinics. This list includes PT/Rehabilitation, Sports Medicine, Wellness Education, Integrative Medicine, Primary Care, Immediate Care, Occupational Medicine, Diagnostic Imaging, and Children's Development Initiative.
The other major component is the fitness center. The fitness center will have a cardio/weight gym, exercise studios, locker rooms, a multi-lane lap pool, and a large therapy pool. Patients will be encouraged to use all of these facilities as a part of the whole health approach that is being promoted with this fusion of clinical and exercise programs.
It has been a pleasure to be a part of the coordination and cooperation between PeaceHealth and Providence Health & Services. Both organizations have very similar missions, visions, and values. These similarities have allowed the clinical leads to meld ideas together and provide the PKA design team with informative feedback on new ideas in the clinic designs.
Design is progressing quickly, and the project is scheduled to break ground in December 2016 with completion in the second quarter of 2018.
For more information, please contact Paul Borowick.