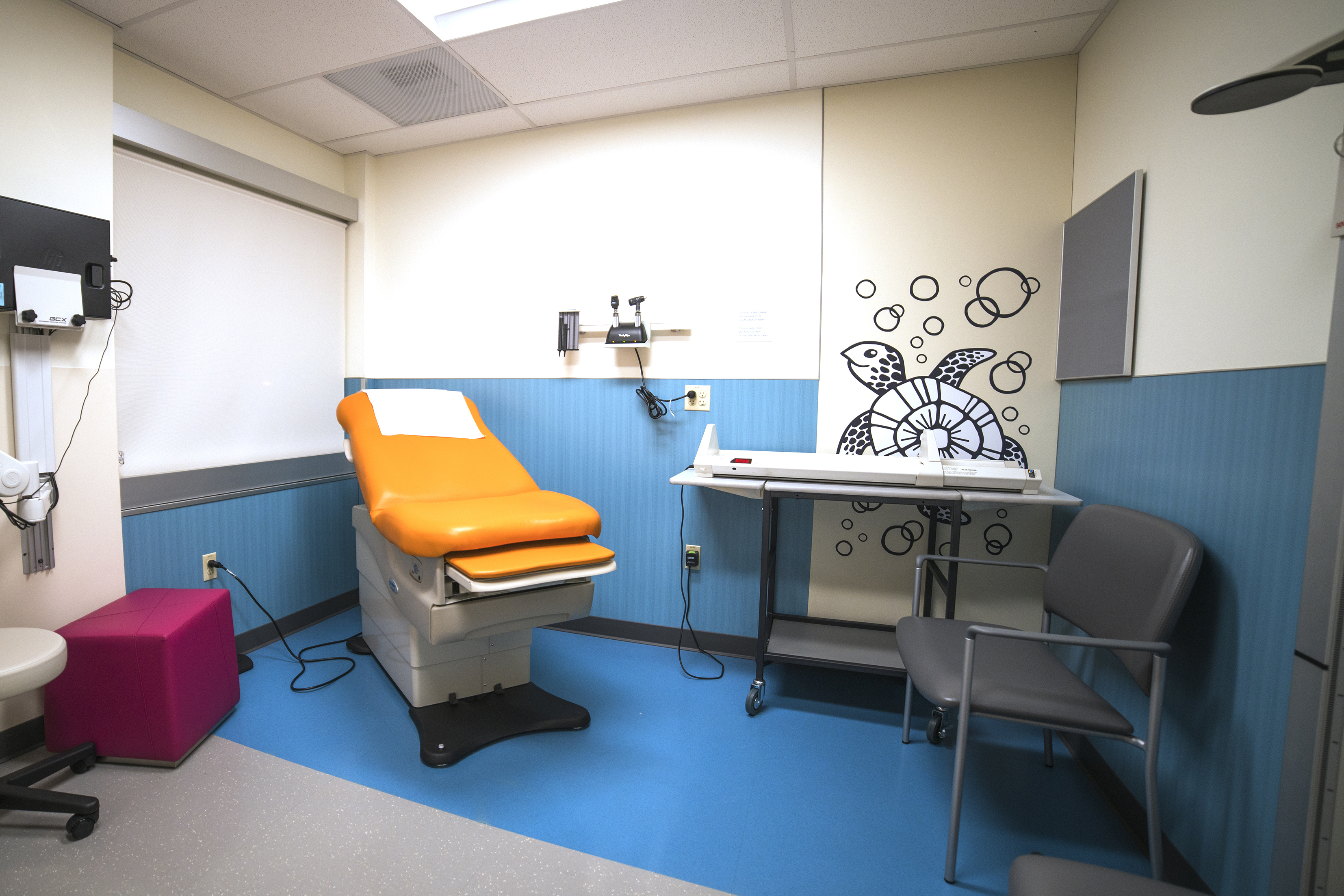 PKA and Howard S. Wright Construction win 3rd place for renovation work at DJC TopProjects 2018 for Kaiser Permanente Interstate Medical Office East – Integrated Pediatric Care. (Portland, OR)
In support of Kaiser Permanente's mission to provide access to high quality, affordable health care to its members and improve the health of the communities it serves, the renovation of the pediatrics unit at the East Interstate Medical Office in Portland, OR provides acute and preventative pediatric consultation and treatment for children ranging from newborn to age 18. The clinic provides general, sub-specialty, and multi-disciplinary pediatric care in response to the goals of the Pediatric Design Excellence standards to integrate many specialty and primary care disciplines within one facility – an updated approach for the Kaiser Permanente's Northwest Region.
The clinic utilizes a variety of bright colors and scales to engage pediatric patients of all ages. Color accents and bold graphics make the space bright and energetic, while helping patients to easily navigate the building. These elements also encourage the use of imagination, which serve as a distraction from potentially stressful situations for both the patients and their families. The pediatric department is an excellent example of family-centered wellness.
The design process for the department involved collaboration across a range of disciplines, including the use of atypical business practices, in order to create a sense of continuity throughout the Interstate Medical Office Campus. The Integrated Pediatric Care design and construction team collaborated with fellow professionals developing numerous concurrent projects to provide a project that met the design needs of clients, staff, and users in a way that is both functional and creative as well as providing a cohesive solution within an entire building upgrade. This allowed the team to participate in an effort which shared knowledge among several projects thereby providing value based and brand consistent design solutions.
With sensitivity in providing a comfortable and open clinic while also maintaining safety standards, temporary viewing windows through temporary walls were created for user groups to see the construction process. "Junior constructor" stickers were given to pediatric patients to make them feel like part of the team. Creating this opportunity made the environment more pleasant for all users during the construction phase of the project.
The project, as well as the project team itself, are part of an ongoing overall campus-wide renovation that seeks to set the standard for this campus' design while reflecting the Kaiser Permanente brand. Adopting a common approach to the experience by integrating architectural design elements, lighting, finishes, furniture, etc. creates the cohesive and positive experience Kaiser Permanente pursues for their members. The result of the collaborative effort between architects and contractors, the common interior designer and signage consultant is complete and seamless.
The design aims to use a combination of space layouts, signage, and color in order to create an environment that is welcoming, easy to navigate, and promotes the idea of family-centered wellness. This use of color, texture, artwork, and natural elements, creates a positive experience for both patients and staff. These elements combine to create a prototype design for future Kaiser Permanente Pediatrics Care in the Northwest.
Pediatric accent paint, wall treatments, graphics, and finishes that are age and gender neutral promote comfort and imagination, as well as a sense of inclusiveness. These finishes visually connect the individual specialty areas to one another. By implementing the goals of Kaiser Permanente's Pediatric Design Excellence Program, the building can aid families in overcoming a stressful situation.
In Integrated Pediatric Care, the waiting areas are made up of a series of smaller sub-waiting areas serving the various clinics. This approach provides privacy and comfort to the varying patient types and age groups. In addition, these smaller spaces allow for a more intimate, less intimidating feel providing patients with a sense of choice; this is especially important for children allowing their mood or health to dictate their interactions with others around them.
The project utilizes existing architectural elements such as clerestory windows and partitions to enhance new elements and additions without impacting the exterior of the building and lengthening the design or construction time through added jurisdictional reviews. This allows the spaces to fit into the context of the entire building, as well as creates an opportunity for other portions of the facility to more easily be renovated to better reflect Kaiser Permanente's brand and standard of care.
PKA would like to thank the design and construction team, including Kaiser Permanente, Howard S. Wright Construction, PAE Consulting Engineerings, Inc., Cherry City Electric, Total Mechanical, and Faustrollean, for all of the hard work and dedication that went into making this project a success.